Stop Selling Your Ideas At Work – With Ian Altman
Podcast: Play in new window
Subscribe: Apple Podcasts | Android | Email | Google Podcasts | Stitcher | TuneIn | Spotify | RSS | More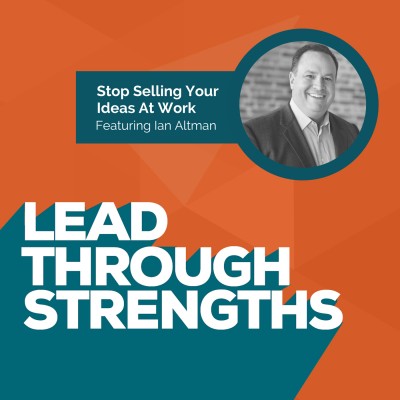 This Episode's Focus On Strengths
Ian Altman joined me to bust the myth that you're always selling ideas at work. In this episode, you'll see instead how you should stop trying to persuade and convince. Stop trying to push your solution. Stop focusing on your value. And start focusing on their problems. Start serving them from their perspective.
Ian's Top 5 CliftonStrengths talent themes are:
1. Competition
2. Communication
3. Strategic
4. Command
5. Activator
What You'll Learn
It's only after standing in their shoes that you can understand if you're a good fit anyway. You'll see how flipping your perspective can avert disaster and ensure results. Ian shares wisdom that will help you:
Present to senior executive in a way that feels relevant to them.
Understand the ancient, mythical creature called empathy.
Stop selling your ideas. Stop persuading. Stop trying to convince. He offers you a better way.
Get your customer to convince you that their issues are painful enough that they're worth solving.
Hear the song "Dancin' In The Streets" in your head for the rest of your day today.
Focus on fit–and whether you have solutions for problems your audience cares about.
Changing your finish line with clients to the results the other party is looking for rather than the moment you get your "yes".
Get more high-five-worthy moments with clients.
Find out why you should stop asking, "who else needs to be involved in this decision?"
Get a Quadrant more magic that the ones from Gartner: 1) Issue  2) Impact & Importance  3) Results 4) Others Impacted
Avoid feeling like you're making ATM transactions with your customer.
See how Ian grew and sold businesses that impressed even Dr. Evil.
Resource of the Episode
Check out the book Same Side Selling when you're ready to go deeper. You can also chat with Ian on Twitter or grab some of the awesome resources on the Grow My Revenue website.