127 Easy Ways To Recognize Strengths
Get this: 65% of employees reported receiving zero recognition for good work in their last year on the job. You don't have to be part of that nasty stat. Here's a downloadable packet with 127 ways to appreciate what's already working with your team members.
Get A Taste Of Our Strengths Based Training & Speaking Events
Sample Speech
Speaking Topics
TEDx Talk
Sample Speech
Speaking Topics
Event and Keynote Speech Topics
In A Career Funk: How To Find Your Mojo By Using Your Natural Talents
Rock Your Talents Because Your Weaknesses Make You Weaker (yes, real rocking will happen with your audience!)
Leading A Strengths-Based Team: Notice What Works To Get More Of What Works
When you bring Lisa to your event to speak, you'll feel her experience fused into a strategic & light hearted package, with a solid dose of business acumen to back it up. To get a sense for whether Lisa is a good fit, read some testimonials below and check out the sample keynote video.
Lisa has experience building a strengths-based culture as a corporate executive. She has an MBA and is a Certified Strengths Performance Coach with Gallup, Inc., the biggest catalysts for and analysts of the strengths revolution. If you're familiar with the Clifton StrengthsFinder assessment, you'll ask, "what are your top 5 Talent Themes?" Lisa's are Strategic, Maximizer, Positivity, Individualization, & Woo. Like you'd expect, she has put those strengths to use with over 9,000 participants in 14 countries.
TEDx Talk
We were lucky enough to have Lisa do our keynote address from the big stage. She did an excellent job connecting with her audience & providing them with provocative thought leadership. She was rated the #1 speaker at the two day conference.
Wow, Lisa really delivered a speech, I mean performance, I won't forget. She was captivating. She's professional, engaging and eloquent. She is a breath of fresh air and inspired all. The employers as well as the employees gained value from her speech.
I have had the chance to work with Lisa over the past 6 years with both domestic and international events. Lisa has a unique style that puts her participants at ease & eager to learn. You always leave her sessions feeling refreshed, inspired, and ready to take action.
SUE C
Career Development Officer
Lisa is among the best—commanding presence, extremely personable and polished, terrific diction, crisp content & with great credibility in front of our worldwide audiences at all levels. I'd eagerly work with her again.
Lisa helped us develop and train our marketers around the globe. She did an amazing job, went beyond her scope, came with creative ideas, and injected her sessions with tons of interaction and energy. It was a pleasure to work with her & I will hire her again.
One of Lisa's strengths is her ability to adapt her style to the audience. She took the time to get to know and understand our management team and our challenges. They were engaged and walked away from each session with valuable tools they could use immediately.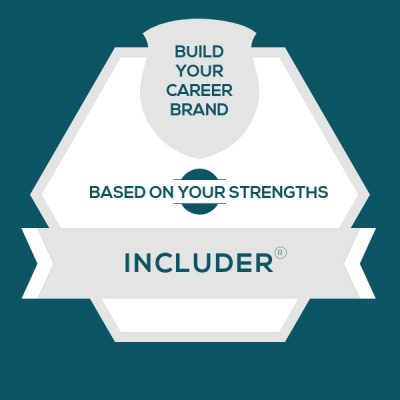 I get tons of questions about how to go deeper to align your CliftonStrengths talent theme of Includer with your career. So in this series, I break down one strength per post. That way, you can add to the insights from your StrengthsFinder report and make a better match between your job and your strengths.…
SEE MORE