The Quit Alternative: Instead, Take That Job And Love It – With Ben Fanning
Podcast: Play in new window | Download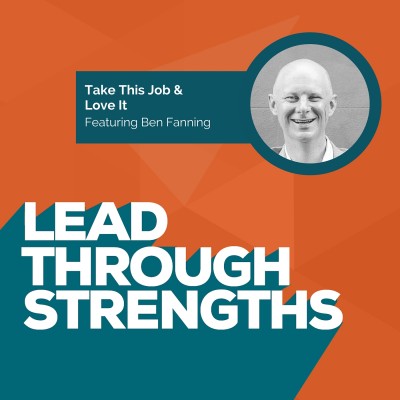 This Episode's Focus on Strengths
Ben Fanning shows you how to take the job you're already in and shape it into something you'll love. He says to think twice before quitting your job. He cautions you to look carefully before you fire a team member. Why? Well, it's because both actions can cost as much as buying a new car. That's a lot of money! And often, the role can be tweaked in a way that brings your talents (or theirs) to the forefront.
You'll find this episode especially useful if you're not in your "dream" job. Even if you are – things change – and you need to know how to steer those changes toward work you can truly enjoy and thrive in.
If you have team members who aren't performing…well, look closer. Their low productivity might be caused by their job responsibilities not lining with their natural talents. In this episode, you'll get three cool angles for lining them up:
Tool: the StrengthsFinder survey.
Books: both the StrengthsFinder 2.0 book and The Quit Alternative.
Tips: Ben's ideas and examples will help you make the best choices for your personal career and your company's productivity.
Since we're expanding our StrengthsFinder team in Austin, Texas and around the world, this interview was helpful for us too. It reminds us to match each team member to work they are energized by. I can say from personal experience that this feels like magic when it is done well. Seriously. I get giddy several times per week when I see how well matched we are for certain responsibilities.
My position as Director of Client Experience at Lead Through Strengths is a perfect partnership for Lisa and me. While she run the delivery side, I run the operations side. I get to curate articles using my Input talent. I combine my Achiever and Responsibility to be sure that every project step happens accurately and as promised. And we're even re-matching talents as we speak as it relates to podcast duties. Ben's tips were hitting home for both of us as we recapped the show.
What You'll Learn
Ben starts this episode by telling his personal story. He was miserable at work. And it was literally making him sick. His advice:
Start journaling. Writing in a journal helps you notice how you really feel about your job. And look, Ben is not a touchy-feely woo-woo guy if you're thinking that journaling is for the soft. He's a practical guy who wants outcomes—and journaling gave him a huge shift.
Make the change. Advice he would give to his younger self – Dear Ben… "Your job is to create the job you love"
Make it yours. Continually molding yourself to the job erodes your personal mold and you forget who you are.
Ben's steps to create the job you love:
Ask – Why am I working in the first place? Knowing the answer to this question can help you during the tough times.
Ask – What are the work activities I'm doing that I truly enjoy? Ben calls these items "soul-filling" work. He points out the more you fill your day with these things, the happier you will be. And as you might guess, the happier everyone else will be too (cough cough, ahem, I think Ben's wife will agree based on the sticky note she left him). TIP: To figure out what you enjoy doing, pull out your calendar and circle the things you are really looking forward to doing.
Plan – Assemble your personal game plan. TIPS:

Look at the conversations you have, and think about what you're saying. Look at the trends.
Stop advertising the tasks you do well, but don't enjoy. Why get type cast into a character you despise? Lets say you are great at cleaning toilets. You think it's gross, and you hate every second of this duty. Would you put it on your resume? No. Surely you wouldn't. Yet this happens every day because people are in the habit of listing a skill inventory.
Start mentioning the things you really enjoy. Tell your manager. Put them on your resume. Add them on LinkedIn. And bring them up in conversations with teammates.
Ask clients and teammates to send you comments about things you've done well (that you enjoy), and then show those to your boss.
After showing these good reviews, ask for the task to be added to your job description. You'll be surprised at how often you can change your "official" responsibilities if you take on projects that you love—especially when you figure out how to tie that to business outcomes.
Listen for the business challenges your company is facing, and find ways to solve those issues. Solve these problems using the activities you love. This way, you're helping the company while making yourself happier.
When you're feeling stressed or you're thinking about quitting your job, remember that you can improve your existing job. With some effort, you can shape it into what you want it to be. So go claim your talents, and share them with the world!
Resources of the Episode
Ben has made it easy for you to get even more tips to improve your current job. Click here to go to his website, benfanning.com, where you can also grab a free copy of his report, The Catastrophic Cost of Quitting: How Organizations and Employees Pay the Price. Click here to purchase The Quit Alternative on Amazon.com.
Other ways to connect with Ben are Twitter, Google Plus, Facebook, and LinkedIn.
Ben mentions he was motivated by Simon Sinek's work, The Golden Circle, which is available for free by clicking here.
Subscribe
To subscribe and review, here are your links for listening in iTunes and Stitcher Radio. You can also stream any episode right from the website. Subscribing is a great way to never miss an episode. Let the app notify you each week when the latest episode gets published.
StrengthsFinder Mini-Course For Managers
If you're a people-manager and you want to sharpen your strengths based support, come join our monthly mini-course. We don't charge for this because we want to help you keep the StrengthsFinder momentum going. Teams who receive strengths feedback have 8.9% greater profitability. Yowza! Sounds like a great reason to join. Source:  Asplund, J., & Blacksmith, N. "Strengthening Your Company's Performance." Gallup Business Journal.