Engage Employees Through Strengths – With Grace Laconte
Podcast: Play in new window | Download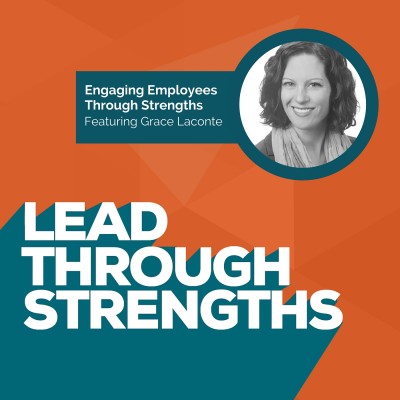 This Episode's Focus On Strengths
Grace Laconte joins us to help you lead through your strengths at work. You'll find this episode especially useful if you manage a team or if you're struggling to relate to colleagues. She also gives excellent insight into employee engagement.
What You'll Learn
Grace shares wisdom on:
Knowing You're In Your Strengths Zone. What it's like when you feel the "high" of using your natural talents and getting a literal paycheck to show you that you're moving in the right direction.
When Your Strengths Are Opposite Of Someone Else's.
What to do when you have a talent of sparking ideas and projects, yet your constant ideas and activation of new projects drives your team crazy. In her case, she realized that her employees needed things she wouldn't naturally bring. She gives great examples of how she listened deeply to understand what her employees needed.
Noticing Other People's Strengths At Work.
How to notice other people's needs, even when you don't consider yourself a great relator. Here are some ideas to spark your creativity. 1) Jon Hainstock at Zoomshift wrote a cool post with

51 Ideas for Employee Appreciation That Won't Break The Bank

. 2) We have a snazzy PDF available on our resource page that gives you 127 Ideas For Recognition. This one is especially helpful if you know you shouldn't give a generic "good job" comment, yet you have trouble finding the words.
Full Openness Between Employee And Manager.
Whether it's a good thing or a bad thing to talk about other job opportunities with your current employees.
When People Are Grumbling About Work.
How to consider what you could do differently on the team to impact this phenomenon.
Lack of Engagement Driving Turnover.
Why turnover happens at a high % and great expense—and how your employee retention practices may not be getting the results you want. Grace shared this study that shows how people leave for reasons very different from what execs believe.In this study, it showed that people leave because of:Relationships — With supervisor and among colleaguesStaffing — Under staffing, disorganized processes, and inequitable assignmentsPersonal Reasons — Lack of recognition and respect, burnout, unreasonable job demands, and limited promotional opportunities

Resource of the Episode
Grace shared her Top Five StrengthsFinder Talent Themes: Focus, Activator, Ideation, Input, Futuristic. If you want to explore your Clifton StrengthsFinder Talent Themes, you should check out the show called Theme Addicts. Grace is a co-host on that show.
You can also find Grace on her company website, on Facebook, Twitter, and LinkedIn.
Remember, using your strengths at work makes you a stronger performer. If you're focused on fixing your weaknesses, you're choosing the path of most resistance. So claim your talents. Then share them with the world. And help your team do the same!
Listen Links
Subscribe
To subscribe and review, here are your links for listening in iTunes and Stitcher radio. Subscribing is a great way to never miss an episode – let the app notify you each week when the latest question gets published. You can also stream any episode live on the website. Just click through the title you like and there will be a player waiting for you on each page. See you there!
StrengthsFinder Mini-Course For Managers
If you're a people-manager and you want to sharpen your strengths based support, come join our monthly mini-course. We don't charge for this because we want to help you keep the StrengthsFinder momentum going. Teams who receive strengths feedback have 8.9% greater profitability. Yowza! Sounds like a great reason to join. Source:  Asplund, J., & Blacksmith, N. "Strengthening Your Company's Performance." Gallup Business Journal.