Build Extraordinary Relationships Through Your Strengths – With Jason Treu
Podcast: Play in new window
Subscribe: Apple Podcasts | Android | Email | Google Podcasts | Stitcher | TuneIn | Spotify | RSS | More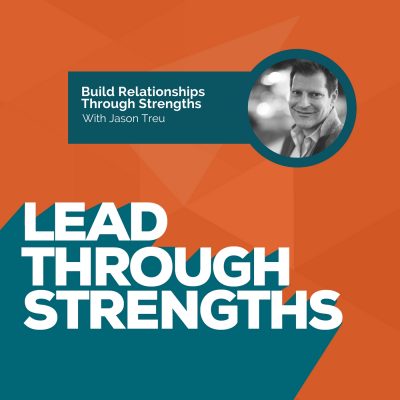 This Episode's Focus On Strengths
Jason Treu joined me to chat about using your natural talents to build better relationships at work. He gives lots of ideas for building real connections.
What You'll Learn
Jason reminds us that business is not the only thing about your life. And he translates it into asking simple questions like, "what do you have planned for this weekend?" Those questions can build rapport very quickly. It's about being human. And getting beyond conversations about spreadsheets. And he shares ideas on:
Tapping into emotions (don't worry, you don't have to be a walking Hallmark card).
Rapport, likability, and trust – getting beyond the surface in small talk so you can get to know a person.
Being magnetic and irresistible, even when you feel awkward or quiet.
Listening. I mean listening actively. And not thinking about your next topic while your conversation partner is still talking.
Spreading the contagion of high fives.
Allowing vulnerable moments. Stop trying to be perfectly perfect.
Build on people's ideas with a "yes, and" philosophy.
Learn how to lead through a person's strengths to be a better manager.
Why you should consider offering the gift of a book (and Jason did this for me–what a delightful surprise to receive a book as a gift). Jason, if you're reading this, I'm digging right in to Give and Take. Thank you for walking your talk!
Resource of the Episode
Check out Jason's book
Social Wealth
when you're ready to go deeper on these topics.
Remember, using your strengths at work makes you a stronger performer. If you're focused on fixing your weaknesses, you're choosing the path of most resistance. So claim your talents. And share them with the world.