Strengths Performance Coaching
What if you could be 6x more engaged at work?
What if you could be 3x more likely to have a good quality of life?
And imagine what it would be like if your work made you think of words like ease, energy, and enjoyment.
You'd take it in an instant, right? That's what Donald Clifton, inventor of Gallup's StrengthsFinder assessment, found in his research on using your strengths at work. You can have those things.
And you get them by focusing on what's right about you. See, using your natural talents actually makes you stronger. You're much more likely to see massive personal growth when you invest in your strengths. Spending time on your weaknesses is what we at Lead Through Strengths call "The Path Of Most Resistance." Many people know about executive coaches or life coaches, yet they've never been exposed to a Strengths Performance Coach.
Are you sure it works to focus on strengths whether than weaknesses?
Yes! Gallup has been doing research on this topic for about 75 years. The data supports it. Unfortunately, psychology and human behavior studies have been historically all about what's wrong with people. So the positive psychology and strengths-based development movement is relatively new.
Here's an example. It's a study that shows how much your performance skyrockets when you invest in your natural talents. Subjects at the University of Nebraska were given two chances at a speed reading test. Those who were average at speed reading made solid gains (66% increase in words per minute) after getting training and learning new tactics. Yet the magic happened with the above average readers. Those who had a natural strength in speed reading saw an 828% increase in the number of words read per minute.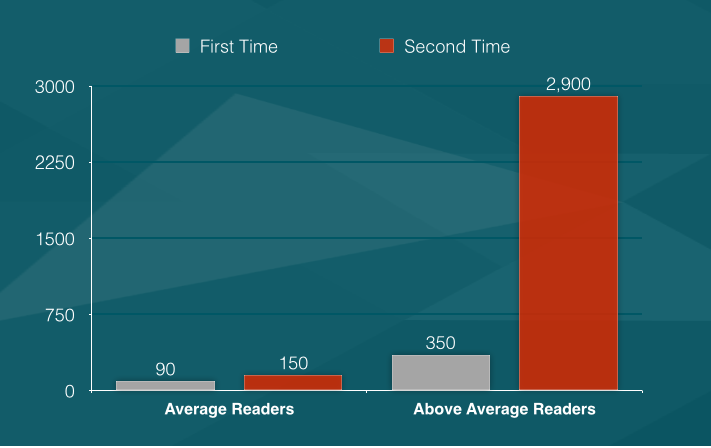 Now that's the power of focusing on your strengths!
If you're interested in 1x1 Strengths Performance Coaching, here's how an initial package works:
STEP 1 - After signing up, you're assigned a code to take the StrengthsFinder assessment.
STEP 2 - I call our first conversation "It's All About You" because we build a relationship while I learn about your work and how you want to point your strengths to improved performance.
STEP 3 - In the "Name It" phase, you're focused on naming your strengths--really getting to know them and how they show up in a nuanced way. You'll discover how your strengths show up when you're using them in a Raw form rather than a Mature form. When you hear about blind spots in your career, this might be where they're coming from. This insight helps as you decide where to invest your time and focus.
STEP 4 - In your "Claim It" phase, it's all about falling in love with your strengths. Most people have focused their whole life on what is wrong with them or weak about their performance. I call this their "path to most resistance." This conversation shifts the unproductive "failure worship" type of thinking and helps you get some serious leverage behind what you're good at. You'll relate it to your current role, your personal brand, and to performance at work.
STEP 5 - In the "Aim It" phase, you target your strengths directly at your performance. The self-awareness is great, yet to fully leverage your strengths, you have to apply them. You'll decide where you'll intentionally invest in the development of your strengths. You'll take specific action to flex your talents to accomplish goals and feel more effective at everyday interactions. If you're looking for an accountability coach, you'll get that too.
Do you really need a coach?
Top athletes all have coaches, so why does it seem so foreign to apply coaching to careers? Don't take my word for it. Eric Schmidt, Executive Chairman at Google gives a great testimonial as a guy who used to not see the point.
How do you meet? Conversations are held by phone. Be sure to have a private space so you can talk openly. If you strongly prefer in-person meetings, we will scope your pricing individually.
How do you know if we're a good fit? To get a sense for my approach, check out some testimonials. It will give you a good sense of my working style. Also, you might be interested in my Code of Ethics. It will give you solid expectations for privacy and confidentiality that you might be wondering about.
Listen To The Lead Through Strengths Podcast