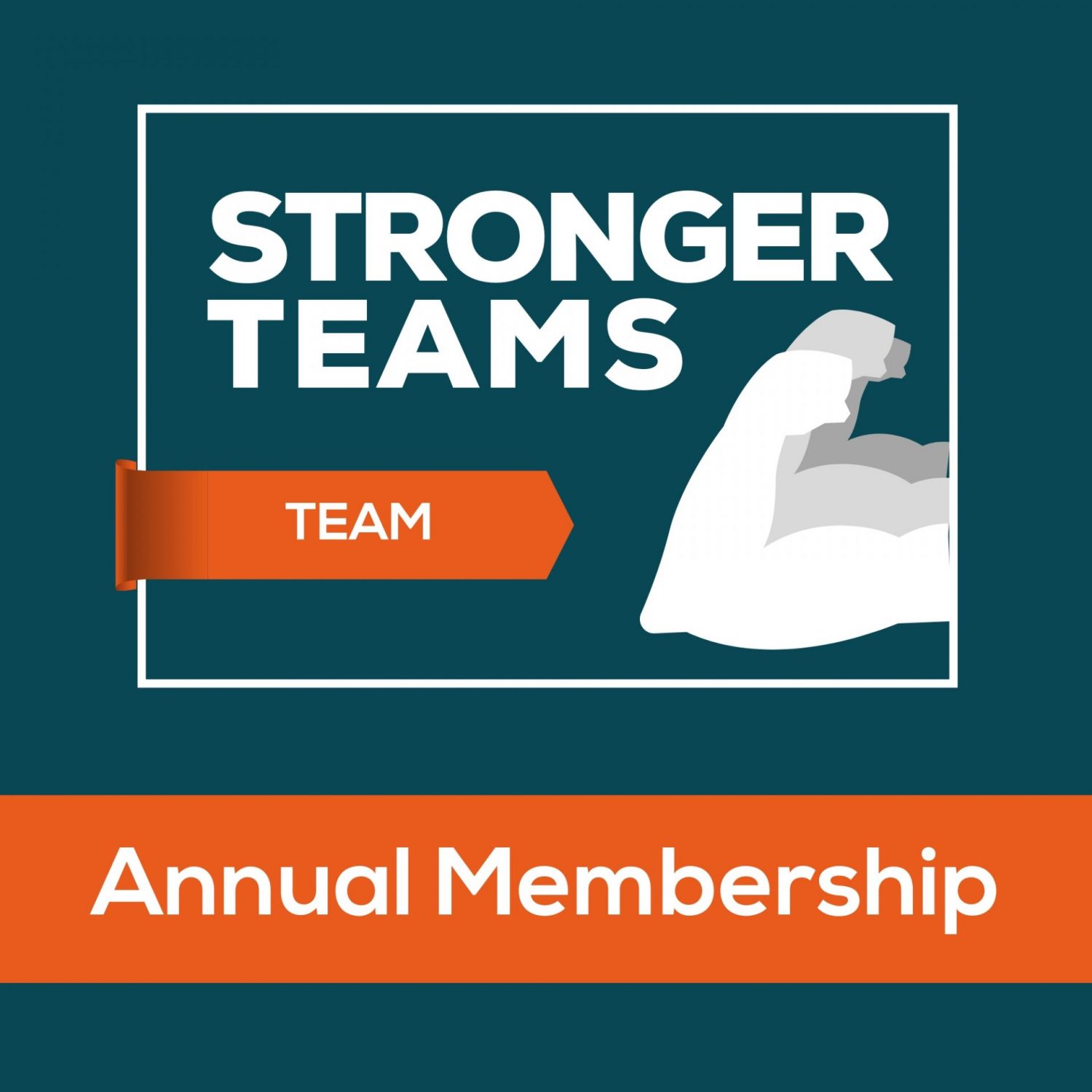 Stronger Teams – Team Membership
Stronger Teams is a large-group development program that helps you implement StrengthsFinder at work and in your life. In this annual membership, you'll attend monthly training and dig into your greatest areas of potential. With this team version of the membership, you can invite up to 9 more members of your team. We call it BYOT (Bring Your Own Team) so that you can amplify performance by knowing each other's strengths and leveraging them.
Before starting the program, it's common for people to say, "Oh yeah, we did a StrengthsFinder team building day, but we didn't do much with it after the off site meeting." That's where this program fits – to help you integrate strengths into the way your team thinks and works every day. Rather than giving you mountains of extra work, it's a digestible amount that can be applied to any work you already do.
The large group format allows you an affordable way to continue to get the insights you get at your best off-site retreats, without having to invest the time and travel expense to do it in-person every month. You also get the benefit of examples from many companies, countries, industries, and work styles. People tell us that they learn more in this format than in small, private team-building sessions.
There are four main elements:
1. Monthly (Live) Virtual Training – up to 10 of you can attend under this membership.
2. Activity Guides – to allow you to facilitate similar conversations with a broader (internal) audience.
3. Strengths Vault – library of strengths content + recordings of all training classes and office hours.
4. Office Hours – live-streamed strengths Q&A every month.
You also have a community of Stronger Teams members, where like-minded peers are also developing themselves and their teams through a strengths-based team culture.
The details:
1. Monthly (Live) Virtual Training – A large group, monthly, 60-minute virtual training session that helps you apply StrengthsFinder to universal work topics. Because you're attending with other companies, it's an opportunity to learn with (and from) people around the world, from different industries and organizations. Every month, you dive into a new topic or competency.
2. Activity Guides – Every month, in the virtual training, you'll experience an activity or reflection that helps you apply your strengths to the job and to your personal growth. If you want to take this activity back to a broader team at your workplace, we provide you with a one-page guide so that you can lead this strengths conversation with others. It's everything you need for a quick, do-it-yourself team activity.
3. Strengths Vault – A library of strengths content you can study and use at your company. The vault is like a treasure chest of strengths resources. All of the past virtual training recordings are available for you (even if they were held before you were a member). Same goes for the Strengths Activity Guides. You also get a well of documents to help you with strengths education and the application to universal work topics, like handling conflict, fighting burnout, and being more collaborative.
4. Office Hours – Monthly strengths Q&A, which is live streamed and recorded. We'll cover all-things-strengths and personal leadership. You can attend the office hours live or via recording. You can submit questions live or in advance – whatever works for you. You guide the topics so that this service puts you and your development goals at center stage.
PS If you found this product page without first seeing the details on our website, there's a robust Frequently Asked Questions page available.
It's time for Stronger Teams!
You already have a full-time job. You can't spend 20 hours a week playing StrengthsFinder trainer on the side. Rely on us to bring the team-building conversations instead. Relax and get fully immersed with your team.