Resumes: should you make a unique one for each job you apply for?
Podcast: Play in new window | Download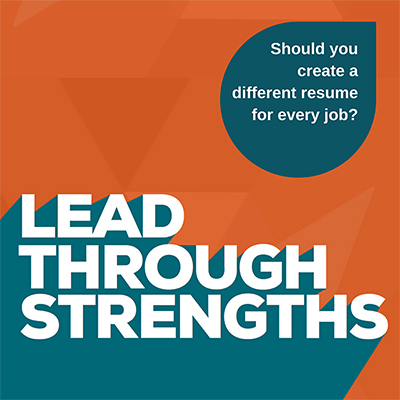 This episode's question
I'm looking for a new job. And I'm considering a couple of different kinds of jobs. So do I need a separate resume for each type of job that I'm applying for?
What you'll learn
– How to stop wasting your time submitting resumes to recruiters and hiring managers who throw it in the trash or overlook your awesomeness.
– How to get noticed by talent management "bots" – the automated tools that are screening you as a candidate before a human ever sees your resume.
– The big secret to getting hiring managers and recruiters to give your resume more than the 10 second skim. Hint: make it all about them.
Resource of the episode
Here are some recruiting and get-noticed tips from top talent acquisition experts. This article was written by one of my awesome clients, Jobs2Careers. They not only serve this space of connecting applicants and companies, but they also live what they preach by having one of the best company cultures around.
Pinterest inspiration boards for Killer Visual Resumes to differentiate yourself and catch the eye of a recruiter. There's also a board on resume writing tips and interviewing tips.
Tweetable of the episode
In the world of resumes, if you make recruiters do work to see how your skills are relevant, they will move along to someone who doesn't. via @lisacummings
[Tweet "If you make recruiters work to see your resume's relevance, they'll move to someone who doesn't."]
As an international speaker and facilitator, Lisa Cummings has delivered events to over 11,500 participants in 14 countries. You can see her featured in places like Harvard Business Publishing, Training Magazine, and Forbes. When she's not out spotting strengths in people, you'll find her playing drums, rescuing dogs, or watching live music in Austin, TX. Her Top 5 StrengthsFinder Talents are: Strategic | Maximizer | Positivity | Individualization | Woo.