Do you need an MBA to get in the 100k club?
Podcast: Play in new window | Download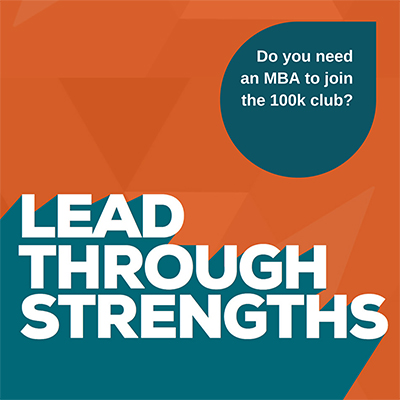 This episode's question is from Lindsay. She asks, "How important is an MBA if I want to join the 100k club?"
What you'll learn
– Why you should think really hard about it before enrolling…especially if you're doing it just to get the letters on your resume
– How to earn 100k with no degree at all
– 3 tips that will pay off more than getting an MBA with a 4.0 GPA
– How to maximize your experience if you do decide to go
Resource of the episode
The $100 MBA course
Tweetable of the episode
You can get all of your MBA knowledge from a MOOC or a book, so have another "why"
Subscribe
To subscribe and review, here are your links for listening in iTunes and Stitcher radio. Subscribing is a great way to never miss an episode – let the app notify you each week when the latest question gets published. You can also stream any episode live on the website. Just click through the title you like and there will be a player waiting for you on each page. See you there!
As an international speaker and facilitator, Lisa Cummings has delivered events to over 11,500 participants in 14 countries. You can see her featured in places like Harvard Business Publishing, Training Magazine, and Forbes. When she's not out spotting strengths in people, you'll find her playing drums, rescuing dogs, or watching live music in Austin, TX. Her Top 5 StrengthsFinder Talents are: Strategic | Maximizer | Positivity | Individualization | Woo.